professional Breakdancers for events and shows
We have recruited the best in British breakdancing talent, taking the most exciting dancers from a variety of Breakdance Crews throughout the UK.
We can put together the most exciting teams tailor-made to your requirements: be it a group of male and female breakdancers, specialists in hip hop, locking and popping, a multi cultural group, or all the best breakdance girls in one team.
What: B-boys, B-girls, Breakdance, Hip Hop, Bboying, Locking, Popping, Robot, Freestyle, House, Acrobatics and Gymnasts.
Who for: Events, Festivals, Television, Films, Commercials, Music Videos, Fashion Shows, trade shows, Night clubs, Tours, Photo shoots, Theatre and workshops.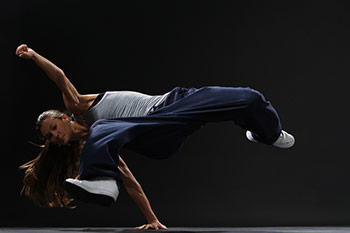 Our professional breakdancers are picked for there unbeatable skill, passion, commitment, charismatic performances and individual qualities.
They have performed with well-known music artistes, commercials, television and brands.
B-girl Breakdance Group
Putting all the best British B-girls in one group and you're sure for an explosive performance …they can certainly show the boys a clean set of heals!
(Also see our street dance page)
For Breakdance enquiries call 07961 579482
Whatever your requirements, be it an individual breakdancer for a music video or a team of dancers for an event, one call is all it takes to take the pick of best professional breakdancers in the UK.