Street theatre Entertainment
UDC has a wide range of street theatre entertainers for corporate events, festivals, store openings, night clubs, parties, product promotion and fashion shows.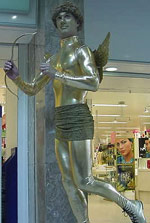 Only the best performers in their field make it onto our books. They are all highly skilled and trained in the art of entertaining with backgrounds in dance, performing arts and visual theatre.
Their enthusiasm, skills and dramatic costumes always make a talking point at any event.
Breaking the ice, capturing attention
Whatever the environment, street theatre is an ideal way to capture people's attention, draw them to your business, or simply create a party atmosphere that puts everyone at their ease.
Meet & Greet –  a great first impression and an instant impact on your guests
Walkabout – Entertainers circulate amongst the guests / crowd, creating the right atmosphere for the event
Mix and Mingle – Walkabout that is more personal in its approach and interacting with the guests
All your street theatre requirements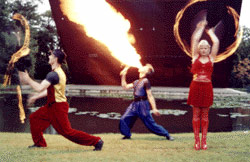 • Stilt walkers
• Living statues
• Aerialists
• Fire breathers and jugglers
• Roller skaters
• Jugglers
• Magicians
• Contortionists
• Moving mannequins
• Look-alikes
• Fake paparazzi
themes tailor made to suit you
Amongst our repertoire of artists and wardrobe of costumes we can tailor make any one of our acts to suit your event.
If we don't have anything off the shelf, our talented team of imaginative designers and experienced costumiers can create something more bespoke.
Latest acts
Betty Boop Burlesque – this girl does it all: living statue, meet & greet, 5 minute dance show. See to our News Page for more information about this act.
Crystal Ball Manipulation – dramatic body suits, animatronic and slow motion movements. Spectacular light clubs are also used for juggling. Go to our News Page for more information about this act.
For bookings or enquiries call 07961 579482
Whatever your thoughts, ideas or requirements - call UDC. Our enthusiastic and experienced team can bring your ideas to life.