NHS Innovator London Awards 2008
Café de Paris, London
UDC Provided the evening entertainment for the NHS innovator London awards at the Café de Paris London.
With a Moulin Rouge theme we entertained the guests with a show girl number to Rhythm of the night and Diamond are a girls best friend to open the evenings proceedings.
Our aerialist Tink performed a dazzling display of moves on silks during the dinner and we finished the event with a 30 minute Moulin Rouge floor show including Lady Marmalade, Roxanne and the famous French Can Can.
Cast: Rowan, Christina, Emma, Lauren, Deborah, Katie Aerialist: Tink
Choreography: UDC Team

Ford Fiesta & Ka Car Launch
Clarence Docks, Leeds
UDC was booked by Racingline Ltd to provide a team of four Hip Hop. dancers for this five day training event for the new Ford Fiesta & Ka.
The theme of the event was Streetwise reflecting the Urban cool and the customer profile that these two cars will attract – those who are young in age and attitude.
The dancers performed at the start of each day for the Car "Reveal" Performing an urban dance piece incorporating the cars with lots of audience pleasing tricks and stunts.
They then went on to perform at the evenings celebration of Ford small cars with a freestyle arrangement combining streetdance, breakdance and contemporary dance styles.
Cast: Bobak, Curtis, Kieran, Sherinne, Tanya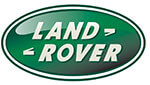 Land Rovers 60th Anniversary
Heritage Motor Centre, Warwickshire
Our popular Moulin Rouge show was booked for the Land Rover's 60th Anniversary celebrations.
This three day event which took place at the Heritage Motor Centre in Warwickshire. Our ever-popular Moulin Rouge show was the opening act on the main stage with Ben Sheppard presenting the numerous celebrity acts that lined up to perform through out the day.

Theme: Moulin Rouge show with showgirls, burlesque, a quirky Green fairy and of course the Famous Can Can.
Cast: Rowan Swale, Katie Homes, Christina Benson, Emma Bolland, Katie Clements.
Choreography: UDC Team
Chamber of Commerce Business Awards
Masquerade Ball, Doncaster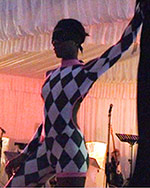 We were asked by Doncaster Chamber of Commerce to create a dance show using the theme masquerade ball.
With four dancers and a 20 minute show required, we created a theatrical and entertaining dance piece, with colourful costumes and masks.
The dancers told a story through there movements which consisted of classical, contemporary, theatre, mime, drama and a Baton twirling Jester!
The result was an engaging and quirky show which held the audience from start to finish.
Cast: Emma Bolland, Deborah Waldie, Sophie Simpson, Jason Williams
Choreography: Sarah Spearing
BENCH Fashion Show
Trafford Centre, Manchester
Six professional dancers from the UDC Team performed for the Bench Fashion and Store opening In Manchester at the Trafford Centre.
The team consisted of three highly skilled Male Breakdancers and three talented and versatile Female dancers. They performed a fifteen-minute Fashion Showpiece four times throughout the day, with many different changes to show the Bench Summer collection.
The brief was to produce something lively, entertaining and different with in keeping of there branding and ethos.
The results were an exciting combination of Fashion and Urban dance using streetdance, breakdance, LA Krumping and freestyle.
Cast: Florent, Anthony, Curtis, Rowan, Tanya and Lizzie
Choreographer: Bobak Walker

SONY - european conference
Aventura Hotel & Theme Park, Barcelona, Spain
UDC was asked by Sony to provide a team building workshop day with Tap dance as the activity for their Professional Solutions Europe- Kick off Conference.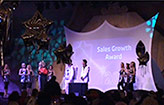 With 400 delegates attending we provided eight tap dance teachers.
Once the delegates had collected there tap shoes the team started the activity with an introduction and a demo performance to give them a taster of what to expect.
They then took 50 delegates each into their breakout rooms and were taught the basics of tap and a stylised tap theatre dance number including a jazz lift!
The 400 delegates then came together for a big finale performance and put on a great show of moves. The results were an incredible success!
As well as dancing the previous day in the Saloon bar with some cowgirl coyote style dancing the team of eight dancers then went on to perform at the evenings Award ceremony.
With a Space theme they performed two dance pieces including theatre dance, jazz, lyrical and street jazz to Jamoriqui Space cowboy and Cascada.
Cast: Nicky, Clare, Suzanne, Katie, Rebecca, Catherine, Emma and Emily
Choreographer: Sarah Spearing
Clydesdale Bank, Burns Night
Grand Harbour Hotel, Southampton

Four dancers performed two dance pieces at this belated Burns night celebration for the Clydesdale Bank.
The client wanted something more livelily than the traditional Scottish dance that they had used before - the result was: Highland Fusion dance.
We produced two dance pieces using the traditional highland dance with ballet and modern jazz. The show was an exciting combination of dance styles, choreographed to the unique sounds of The Peatbog Faeries - a popular Celtic jazz band.
Cast: Rowan, Christina, Deborah, Clare.
Choreography: Sarah Spearing

The France Show 2008
Olympia, London
Four dancers from the UDC Theatre dance team performed The French Can Can at The France Show, a three day event at Olympia stadium in London.
Starting early in the morning at the VIP breakfast with Jean-Christophe Novelli they then went on to take centre stage performing five times throughout the day.

The event was a great success and they received excellent feedback from the Organisers, Archant Life.
Cast: Rowan, Christina, Shelly and Sarah-Jane.
Choreography: Rebecca Manning.
Indian new year celebrations

Crowne Plaza, New Delhi, India
Four female dancers from the Latin Samba dance troupe performed at the Crowne Plaza in New Delhi, for there New Years eve celebrations, performing in there five restaurants in the hotel.
They captivated there audiences in there stunning colourful costumes and an energetic lambada, Samba, bachata performance to the intoxicating drumming music.
They certainly put a smile on everyone's face as they welcomed in the New Year. Cast: Ella, Sarah Jane, Natalie and Ashleigh.
They received rave reviews from the management: "They really Rocked !" and were thanked for making there evenings celebrations a great success.
Marriott Hotel

Qatar. United Arab Emirates
A group of female street / Hip hop dancers performed a twenty minute up beat show. Including breakdance tricks and hip hop moves, in three outlets with in this luxury five star hotel.
They really shook up the evening's events, as this style of dance had never been seen before in the region.
They won over the audiences with their energetic performances and highly skilled moves.
Sheraton Hotel and Resort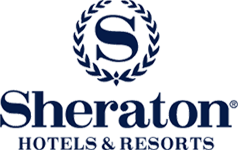 Abu Dhabi. United Arab Emirates
An all female dance group performed a 20 minute cabaret show with in two outlets in this prestigious Hotel & Resort.
Performing in a variety of themed costumes this talented and versatile team put on a dazzling display of traditional and modern cabaret dance numbers.
Numbers: Moulin Rouge showgirl, Lady marmalade burlesque, 1920's Charleston, 70`s Disco and modern streetdance numbers to Pussy Cat Dolls and Beyonce.
Cast: Rowan, Christina, Emma, Emily and Tricia.

Corporate Event
Sound Nightclub, London
Five UDC Hip Hp / Breakdancers performed a part choreographed part freestyled dance piece at the Sound Nightclub.
The dancers wore themed white and metallic costumes, there were gasps and cheers from the audience whilst they performed extreme acrobatic tricks and break moves.

Aagrah restaurant group
Cedar Court Hotel, Bradford
The Aagrah Restaurant Group held their 25 years celebration at the Cedar Court Hotel in Bradford and UDC were booked as the main entertainment of the night.
With a group of eight dancers, two ten minute performances were created to a medley of 60's and 70's hits from Disco Fever to Car wash, Hand Jive and Rock and Roll. All climaxing with scenes from the hit Musical Grease.
Fun, non-stop high energy performances that certainly hit the spot with the guests.

HBOS HR Dinner
Royal Armouries, Leeds
With a 1970's Theme four UDC Dancers performed a 15 minute choreographed show to open the evenings events.
In retro 70's costumes they performed to a range of popular hits from Celebration to Jungle Boogie. They returned later to free style with the band, and they soon had the dance floor packed with guests to boogy the night away.

Manchester Christmas Lights
Town Hall, Manchester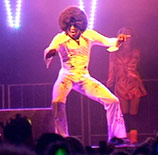 15,000 people packed into Albert Square in the heart of Manchester for the highly anticipated turning-on of the city's Christmas lights.
UDC were booked by Manchester City Council to take part in the night's entertainment, culminating with Shayne Ward flicking the switch to tumultuous applause and a dazzling firework display.
The theme was 1970's and high-energy soundtrack was cut; featuring a medley of classic anthems such as: Freak Out, Boogie Shoes, and Play That Funky Music.
The tightly choreographed routine seamlessly combined typical 1970's dance moves, with unexpected gravity defying leaps and tricks drawn from contemporary street and breakdance – which drew enormous cheers from the crowd.
Unfortunately for the dancers, and the crowd, there wasn't time for an encore.
The team
Dancers: Jason, Stephen, Bobak, Nicky, Katie, Rowan.
Choreographer: Sarah Spearing
Nick & Milly Product Launch
Paper Club, Regent Street, London.
Celebrity Red Carpet Charity event Supporting: Amnesty International, BUAV, WSPA, WWF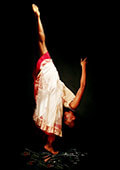 UDC provided the dance entertainment at this prestigious star studied event for the launch of Nick & Milly London, the first brand to launch from an extensive brand portfolio by social enterprise, Three pty Ltd ( UK / Australian based).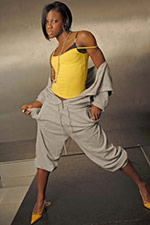 The theme of the evening was a cruelty free world for people, animals and the planet.
UDC Artistes contributed to the evenings success by providing the dance entertainment, with a cast of ten talented dancers.
Sherinne Anderson and Karensa Louis performed a contemporary dance piece at the drinks reception accompanied by the beautiful sounds of the harpist.
The full cast of ten dancers opened the evenings performance to a music arrangement of alternative jazz, funk jazz, and acoustic drums.
The performance included contemporary, street, hip hop dance and breathtaking moves from the breakdancers.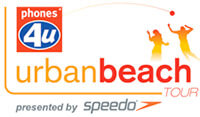 Phones 4U Urban Beach Tour:
Edinburgh, Birmingham, Cardiff and Belfast
A team of six Street / Breakdancers are currently on tour with the Phones 4U urban volleyball event.
A choreographed routine was created incorporating the Phones 4U hand gesture with creative street dance and intricate tricks from the Bboy and Bgirls.
In between the matches the spectators are entertained by the dancers performing their dynamic routine and energetic freestyle moves. The teams' performance has been picked up by Channel 4 and other TV networks.
Cast
Choreography: Bobak Walker
Street dancers: Jason, Stephen, Rossa
Breakdancers: Tasha, Curtis, Stella
Under studies: Victoria, Jacqui
1920's theme Summer Ball
Four UDC dancers recently performed at a lavish private function in Dorking, Surrey.
Dressed in the traditional Flapper style, the girls made the evening go with a swing performing the Charleston and freestyling to a live band. The show finished with getting the audience onto the dance floor to teach them some classic Charleston moves.
Golden Square Music Festival
Warrington

The Urban Fusion dance team stole the show at the Golden Square Music Festival in Warrington.
Three male and one female dancer performed a high-energy choreographed routine, combining streetdance with crowd pleasing break dance tricks to DJ mix.
They made several appearances throughout the day, along with a medley of other artists.
Kirby hoovers Award ceremony
Batley Variety Club

The Kirby Hoovers Award Ceremony, held at the world famous Batley Variety Club, was keenly attended by over 400 delegates.
This was the 3rd repeat booking for UDC dancers at this quarterly event.
Dressed in their magnificent Showgirl costumes our team presented the awards, posed with the winners for photographs, and assisted with the raffle.
James Bond Theme Show
Award ceremony at Alton Towers

The UDC Dance team performed a James Bond theme show to open a prestigious award ceremony at Alton Towers.
The team of 8 dancers kicked off the evening's events to over 1,000 dinner guests in a stunning starcloth marquee.
The James Bond theme show, included 6 Bond Girls in 2 themed costumes and a martial art's showdown with an arch villain - to a medley of James Bond theme tunes, from the classic original sound track to Madonna's 'Die Another Day.'
Needless to say, the audience was not shaken, but stirred.
> Read more about our James Bond theme package show.
Ballroom dancers' Event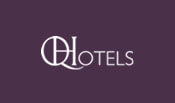 Queens Hotel, Leeds
UDC Ballroom dancers entertained the guests at the Queens Hotel in Leeds, with a twenty minute fast paced display of numbers from the waltz to the foxtrot.
The audience were soon up to join them, and with their expert tuition by the end of the night they were all doing the Cha Cha Cha!
Our talented Ballroom dance team have performed at International competition level and were England's sole representative at the 2005 IDSF Latin American World Cup in Vienna.

Harvey Nichols' Event

Harvey Nichols, Leeds
Ten UDC dancers entertained the guests at the Harvey Nichols store in Leeds.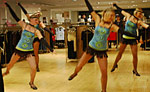 The Can Can dancers greeted the guests on their arrival with a energetic performance of the French Can Can.
As well as mingling with the guests, the dancers performed throughout the night and over the three floors of the store – with a range of costumes and dance styles to suit all tastes.
The Charleston dancers performed a quirky number amongst the rails of designer clothes, while the Tango dancers put on an elegant and passionate display, and were soon drawing the crowds.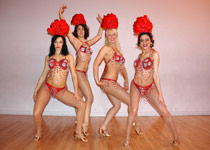 Latin dancers' india tour
UDC's Latin Dance group recently returned from a 3 week booking in India. During the three week tour they performed in Mumbai, Chennai and other cities in northern region.
A variety of Latin dance styles and exotic costumes were incorporated into fiery and exciting show, and after weeks of planning and preparation, the tour proved to be a great success. > Read more about our Latin dance package for corporate events.

Orbis end of year party
Claridges, London

The Orbis End of Year Party was held at Claridges Hotel, Mayfair on a 1920's Cotton Club Theme. Four female dancers and one male tap dancer from the UDC Theatre dance team performed through out the night in period costume.
Our team was there to Meeting and Greet the guests, followed by freestyling while the lounge singer performed. During dinner they performed our Cotton Club package show to the Charleston, Bo Jangles, Nina Simone, Mack the Knife and Louis Armstrong. A wide range of dance styles were blended to bring the show to life, including the Charleston, jazz lyrical, contemporary and tap. > Read more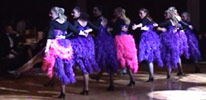 HSBC Bank. Clerical Medical Conference
Celtic Manor Resort
Eight dancers from UDC performed at the HSBC's prestigious Hollywood themed event in Wales.
The evening began with our dancers bursting into the ballroom to surprise the guests, then moving on to perform a carefully choreographed floor show to hits from all the old great Hollywood musicals, including singing in the Rain and Marilyn Monroe.
6 DANCERS, 5 STYLES, 4 COSTUME CHANGES … 1 UNFORGETTABLE NIGHT
Motorola - The 02 Event

It was a tall order by anyone's standards; creating a choreographed show that incorporated Tango, Salsa, Jazz, Funky Modern Tap and Street Dance.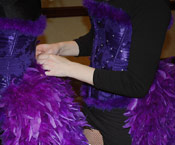 Music was selected and edited, and corporate themed costumes were designed and tailored – while rehearsals got underway in London and Leeds.
It all came together on the night with a seamlessly-woven dance showpiece in Motorola's tent in the O2 event, at the Celtic Manor Resort.
A tightly choreographed show – with between 2 to 6 dancers on stage at any one time – was brought to a climax with a freestyle demonstration in cool tricks and back flips. Needless to say, the Latin dancers were not to be outdone and a had a few moves of their own.
After the show was over, the UDC team got the audience up, and together they danced the night away.
"Thanks for all the hard work … the costumes looked brilliant and the dancers gave it their all." said the client.