James bond theme dance show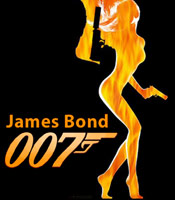 Cast: 2 male and 6 female dancers
Costume: Tuxedos, Catsuits, Gold sequin dresses
Music: All the best sound tracks from the James Bond Films
Dance Styles: Modern, Jazz, contemporary, martial arts, street dance.
Duration: 10 - 20 minutes continuous show
007 dance show profile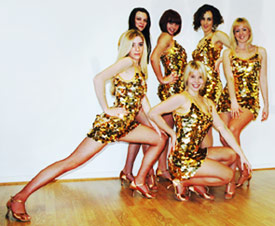 Our James Bond theme show is fast-paced, action packed and full of glamour.
The music is a medley of Bond soundtracks, from the original classic, to 'Live and Let Die' by Paul McCartney and Wings.
Bond, surrounded by his girls in 60's catsuits and gold sequinned dresses, perform a powerfully choreographed routine.
The show has plenty of tongue in cheek humour and action, including a dramatic martial art fight scene with an arch villain.
This is a dance show with a difference ... needless to say it will leave your guests not shaken, but stirred.
Extras: ideas to complement your event
Look alikes: Jaws, Odd Job, Blofeld, Sean Connery
Living statues - gold painted
Aerialist circus artistes performing to Gold Finger
Stilt walkers in Bond girl costume