Cotton Club THEME dance show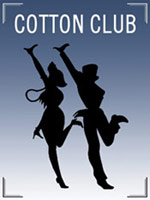 Cast: six female dancers one male tap dancer
Costume: 20's themed costumes with beautiful sequined and colourful flapper dresses.
Music: Charleston, Nina Simone, Louis Armstrong, Mack the Knife, Bojangles
Dance Styles: Charleston, Jazz Lyrical, Contemporary and Tap
Duration: 15 - 30 minutes
Notes: Great for 20's - 30's themes, Cotton Club theme, Jazz themed nights
Dance show profile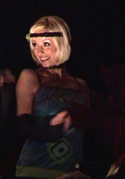 This is a truly entertaining and engaging show for any event.
It includes the energetic Charleston with lots of cheek and fun to sensuous Jazz Lyrical numbers.

The music ranges from Nina Simone, feeling good and summer time, to a touch of the old great jazz numbers like Mack the Knife and Bojangles.
Our very talented Tap dancer Nick – who has performed as the lead star in West End shows and lead tap dancer in River Dance – can do a fifteen minute solo spot free style tap to numbers like Minnie the Moocher. Too darn Hot and Puttin' on the Ritz.
He always leaves the audience wanting more.
Extras: ideas to complement your event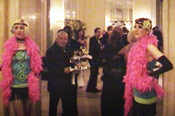 Meet & Greet: The dancers are great for meeting and greeting your guests.
Mix and Mingle: Our dancers can also mingle at the drinks reception being charming and a little mischievous. They can also do some freestyle during the evening, to visually entertain the audience while the band plays or if your having a lounge singer.
Other ideas: Living statues: Art deco statues / Cigar girls: beautiful girls dressed in 20's period costume carrying cigars / Gangsters: Male actors / Table magicians and pick pockets