Parisian Showgirls dance show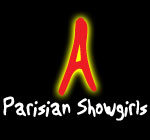 Cast: minimum of 5 female dancers
Costume: sequined, feathered show girl costumes, Burlesque style, chorus line and traditional Parisian Cancan
Music: Orpheus in the Underworld, Elton John and Moulin Rouge* soundtrack
Dance Styles: Show girl, chorus line, Cancan, funky jazz, street dance and classical
Duration: 15 - 30 minutes continuous show
Parisian Showgirl dance show profile
This show brings to life the glamorous chorus line dancing and provocative cancan that first appeared in the ballrooms of Montparnasse, Paris around the 1830s – and is now recognised all over the world.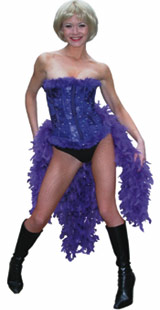 A visually stunning show with frivolous numbers of glamorous high kicking showgirls, an intricate Tango giving depth and emotion and quirky numbers with the cheeky and intoxicating Green fairy.
This show takes you on a journey into the Bohemian world of the underground.
Full Length Production: 30 – 40 minutes.
Circus artistes can be incorporated into the show. See below for some of the circus artistes that are used.
Your Song – This popular track by Elton John features a strong duet done either on pointe or ribbons with rhythmic gymnastics.
Lady Marmalade – This is a real high energy street jazz number with lots of attitude and fun.
Rhythm Of The Night – Show girls in stunning costumes, sequins,feathers, high kicks and chorus line combinations, high impact number keeping pace from start to finish.
Diamonds Are A Girls Best Friend – Show girls stay on to entice with glamour sophistication and of course diamonds.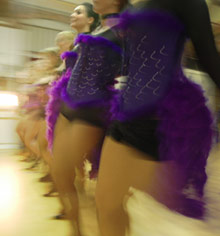 Diamond Dogs – The Green Fairy makes her appearance weaving between the dancers and intoxicating her magical spell. A quirky number.
El Tango De Roxanne – A strong passionate number with real depth and emotion using traditional tango that builds slowly to a dramatic climax.
Because We Can – Building to the finale we start with a modern Cancan, lots of tricks and daring acrobatics.
French Cancan – The most famous finale of them all, the French Cancan with all the traditional kick lines and finishing the show in the fabulous chorus girl splits.
Extras: ideas to complement your event
Meet & Greet: The showgirls are a great way to make that first impression with your guests in their stunning costumes
Walk about: The Cancan girls are fun and cheeky mingling with the guests creating just the right atmosphere.
Free style: Burlesque costumed dancers can free style during the night to sustain that moulin Rouge energy
Showgirl stilt walkers
Walk about magicians/ Pick pockets
Aerialists
Small people
Jugglers
Contortionists
Fire grinders
Sword swallowers
Living statues
*Moulin Rouge is a registered Trademark of Moulin Rouge S.A. The Moulin Rouge mark was licensed to Twentieth Century Fox for the film, "Moulin Rouge." UDC has no entitlement, relation or endorsement from Moulin Rouge S.A. and is purely using a few titles from the film soundtrack as part of a traditional Parisian style dance show.