HEN NIGHT Cancan PARTY WORKSHOPS ©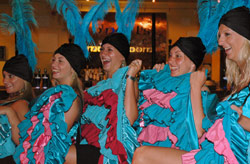 UDC has been voted by Brides Magazine as one of the top ten Hen Events in the UK - for the second year running.
It's also making a splash in the papers, click here to download our most recent press cutting. Download PDF (600KB).
Our Hen Night Cancan Party Workshop© packages are available for bookings throughout the UK and are a great idea for a finale with the girls.
Our professional dance teachers will take your party step by step through learning the Cancan and by the end of the session you will be putting on your own performance in full costume.
We can hold your Hen Night at a venue of your choice, or recommend one for you, anywhere in the UK.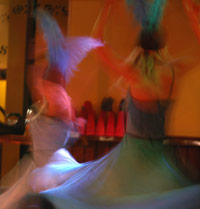 Hen Night Cancan Party Workshop © Packages
Dance is a great way to bring people together - and what better for the ladies than this joyous and spirited dance with a rebellious nature the French Cancan.
Along with all the fun and laughter, you will receive expert tuition from dancers who have performed at the Moulin Rouge in Paris. They will take you all through the basic movements: from sequences of chorus line kicks, to the traditional Cancan tricks.
Naturally, there will be regular breaks and drinks and refreshments can be arranged. The hen night culminates with your own fun rendition of the Cancan in full traditional costume - which we can capture on video or film, for you to remember.
There's Champagne for the bride-to-be, a prize for the most promising Moulin Rouge dancer, and an open bar for refreshments.
Hen Night venues throughout the UK
Either you can recommend, or we can source the best venue for your hen night - anywhere in the UK.
Our hen party packages are totally tailor-made to suite your requirements: time, place, drinks and refreshments, can all be arranged for the perfect hen night. Just let us know your thoughts and ideas and we will create an hen party event around you – we'll do the work, and let you can carry on with your wedding plans.
Where: City centre dance studios (as central as we can get!) throughout the UK
When: Any day of the week, morning or afternoons.
Duration: one and a half hours.
Price: £25 per person with a minimum booking of ten. Deposit required.
© Hen Night Cancan Party Workshops are the intellectual property of Universal Dance Creations. All rights reserved. Franchise opportunities are available throughout the UK, promotion and support material provided – enquire for details. Imitators, without prior written consent, will be prosecuted. UDC 1/5/09