Cancan Hen Parties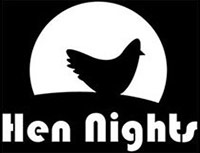 This dance hall number which dates back to the 1830's is still as popular today.
Made famous by the Moulin Rouge in Paris this number is still performed to audiences across the world.
Considered in its day to be a scandalous dance with its cheeky and provocative moves and the ladies throwing there skirts above their heads to reveal their frilly laced behinds !
The Cancan makes a great dance experience to have with all your girlfriends, you will learn chorus line kick routines, famous can can tricks, the rond de jambe and with a clever cheat you will be able to attempt the most daring move of the can can the finale jump splits!
You will get a chance to try on the Cancan skirts and put all the moves together into your own rendition of this boisterous Cancan dance.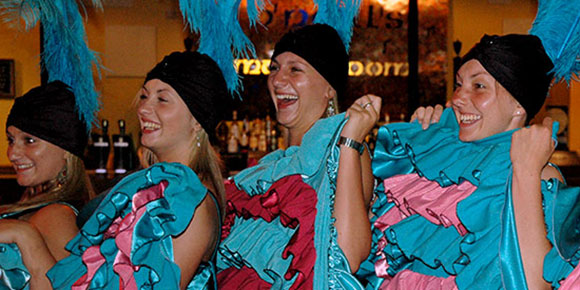 Music
Orpheus in the Underworld by Offenbach ( Cancan music).
Hen party costumes
Cancan skirts will be provided for you to use during the workshop. Ideas on what to wear: soft, flat shoes, trainers, black tops or basque tops look great with the skirts.
Ideas on what to bring
Cameras so you can capture all the fun, good set of lungs for all the Cancan screams.
Hen parties throughout the UK
From Leeds to London, we run our hen parties in most cities throughout the UK. We prefer to run our workshops in dance studios in city centre locations - as central as we can get!
When
We can hold your hen party on any day of the week, at a time to suit you - morning or afternoons.
How long
Our workshops last for one and a half hours.

Price
£25 per person with a minimum booking of ten. Payments can be made by cash, cheque and most credit cards. A minimal deposit is required on booking.
How to book
Just give us a call to discuss your requirements on 07961 579482, or send an email.
I'm just writing to let you know what a great time we had with the Dirty Dancing class.
Our teacher was lovely and was really great at keeping the energy levels up through the entire two hours, she pitched the class perfectly at the right level which would have been hard considering that she had a mixture of professional dancers and people that have never done any dancing at all.
Thanks again and I will recommend your agency to anyone who is arranging a hen event.
Many thanks
Sabrina
[ Hen Parties ~ Leeds ~ London ~ UK ]